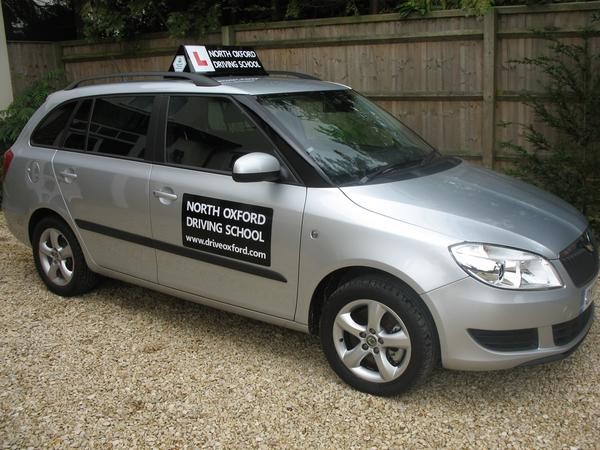 Skoda Fabia Estate, 1.6 diesel, 5 speed manual gearbox. I know, not the most exciting car in the world or even the prettiest (by a long way)! But, that's not really the point of a driving school car, what is important is that it's safe, comfortable, easy to drive, fuel efficient and offers the best driving position of all the cars I have tried.
Whatever your shape or size, you need to be comfortable when learning to drive, otherwise you will never relax. My pupils have ranged between 5′ and 6'3", all of whom have fitted comfortably in the car.
Being the top of the range model, the car is fitted with automatic air conditioning, so my pupils never have to wipe condensation from the windows in the winter and always keep cool in the summer!
With 105 bhp, it's got plenty of power to help you build up speed on slip roads, without the stress of having to race the engine, yet it's green, only omitting 109g/km of co2 and returning over 50mpg during the average driving lesson! (not many comfortable cars can do that around Oxford)
It's also got some clever tricks, if it's raining and the front windscreen wipers are on, the rear wiper will automatically start when the car is put in reverse (really handy for a nervous pupil, about to do a reversing manoeuvre on test day).
Because it's a diesel with a really good engine management system and something called torque, it's really hard to stall. My pupils regularly say the car's helping them drive!
Worried about which gear you should be in? Don't, the car tells you which gear you are in and if it would be more efficient to change up or down.
Plenty of room in the back…… Yes, and that's a good thing, because I always sit in the back when my pupils take their tests. Although I can't take any part in the test, my pupils tell me that it really helps them with their nerves, which is the least I can do.
No surprise then, that a number of my pupils have found their way into a Skoda ofter passing their tests!